Acuiti has released a survey, commissioned by Avelacom and Deribit, that explores how proprietary trading firms approach the cryptocurrency markets, both spot, and derivatives.
Proprietary trading firms are key liquidity providers to global cryptocurrency derivatives markets. As digital assets continue to become more embedded in financial markets, the asset class is rapidly evolving with more players coming to the market in terms of trading firms, venues and infrastructure providers.
Acuiti explores how trading firms are approaching the crypto derivatives market and where the demand lies for future innovation. The survey asked what and how firms are trading crypto derivatives, what challenges they face in navigating the plethora of venues, the take up of innovations such as crypto custodians and DeFi trading platforms and where the demand is for future launches.
The report found that proprietary trading firms have been early adopters of crypto derivatives, with 81% of those already trading crypto derivatives alongside the spot market, with options being less popular than futures: 46% are trading futures only (although just over half trade futures and options), but 90% wish to start trading options as well.
Traditional firms tend to trade on a higher number of exchanges than specialist firms (6 for futures and 2.6 for options for traditional vs 4.9 and 1.9 respectively for specialist firms).
Firms using arbitrage strategies trade on more markets on average (6.9 for futures, with many trading across more than 10 venues).
The survey found a strong appetite for expansion among respondents with 97% of firms planning to connect to more exchanges to trade crypto derivatives. All specialist trading firms were planning to increase the number of exchanges they traded on suggesting that they will soon narrow the gap between the number of exchanges they trade vs their traditional peers that were identified in the survey.
The key drivers of connecting to new markets were to realize greater arbitrage opportunities, to interact with different market participants and to improve price discovery.
Latency is a key issue, particularly when trading crypto derivatives vs spot for more than 60% of market participants.
Specialist crypto markets are lagging traditional markets for latency (but far outperform traditional markets in respect of market data costs).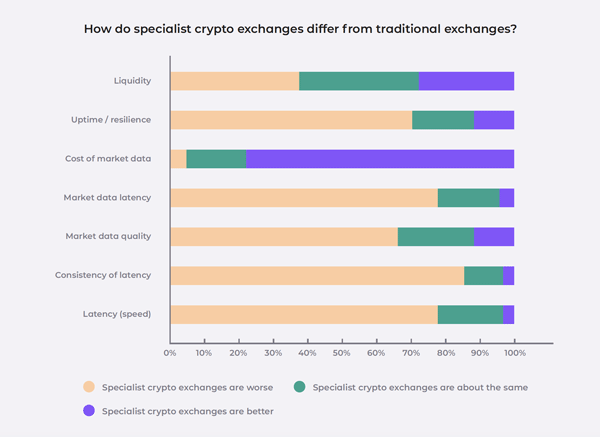 Avelacom will use this data to build more points of presence (PoPs), increase its connection capacities with AWS, Alibaba, and Cloudflare public clouds and collaborate with exchanges to improve their infrastructure resilience and prevent current infrastructure failings aimed at increasing opportunities for traders arbitraging between venues.
Aleksey Larichev, Chief Executive Officer at Avelacom, said: "As crypto trading becomes increasingly competitive there is a growing understanding of the importance of low latency, robust, reliable network solutions to ensure institutions can keep up with the latest trends and maintain profitable and effective trading. The many venues offer significant arbitrage opportunities, but there remain some challenges because the most popular exchanges have cloud-based infrastructure and push public cloud connectivity as the primary network solution.
"However, this is not designed for latency-sensitive trading and needs to be optimized. Avelacom provides solutions designed to improve latency,
using our own proprietary networks and also ensuring we have ascertained the best locations and routes within existing clouds to minimize delays."
The connectivity provider has adapted its solutions portfolio to service the growing number of institutions entering into digital asset trading. These often face performance challenges because many cloud-based exchanges were originally set up for retail traders. As a result, the infrastructure was not designed to serve latency-sensitive market makers and professional tech-savvy traders.
Avelacom has facilitated this growing market by being one of the few tech companies that have offered low latency access to cloud-based exchanges.
The firm features are • 80+ points of presence (PoPs) located in data centers that are home to the exchanges' infrastructure, direct links with public clouds (AWS, Alibaba, Microsoft Azure, Cloudflare…) to minimize latency to access clouds, a free trial to test our network latencies using clients' actual applications, network performance is SLA guaranteed with microsecond accuracy.